Meet Our Donors
Loran "Stub" Stewart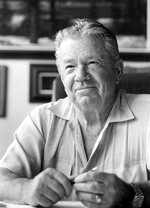 In her obituary about Loran "Stub" Stewart, Sigma '32, writer Alice Tallmadge, in the January 4, 2005 edition of The Oregonian, hailed him as a timber baron, philanthropist, lawmaker, and advocate, who was a dynamic force in the timber industry, became a three–term legislator, and pushed for public access to beaches. Her words told only a small fragment of the whole story about the accomplishments achieved by this remarkable KDR gentleman who lived to the age of 93.
As president of Bohemia Lumber Company, based in Culp Creek, southeast of Cottage Grove, OR, Stub and his late brother, Faye, nurtured the family–owned sawmill operation into a multimillion–dollar corporation. Within a decade, Bohemia's influence had grown to become one of the largest forest products companies in the Pacific Northwest.
"In its later years," according to Tallmadge, "Bohemia diversified into land development, modular home construction, and balloon logging. At its peak, Bohemia and its subsidiaries in three Western states and Canada employed 2,500 people."
Brother Stewart served on the Oregon State Parks Commission for nearly a decade. In addition, he was chairman of the State Parks and Recreation Advisory Committee for almost 20 years. "He made state parks a financially accountable agency, and his behind–the–scenes advocacy paid off in the 1967 bill guaranteeing public access to all Oregon beaches," Tallmadge wrote.
He believed strongly in the concept of "quiet philanthropy." During his lifetime many organizations and individuals, including Oregon State University, the University of Oregon, and The Kappa Delta Rho Foundation, benefited from his extraordinary brand of quiet philanthropy.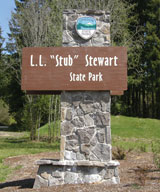 Above all, Stub never forgot about KDR and the Sigma Chapter at Oregon State University. According to Michael Solomon, Stub's grandson–in–law, who is also a Sigma Chapter alumnus, "Stub was active in KDR from 1928 to 1932. He was a member of ROTC and was instrumental in getting KDR involved in entering a float in the annual noise parade. The float was notable because of an explosion on the float that caused injury to his brother, Faye, and to others. Stub was also worthy consul in his junior year of 1930–31."
From 1990 to 2002, Brother Stewart served the National Fraternity faithfully as a member of the Ordo Honoris Selection Committee.
William Paris, Eta 87 had the opportunity to work and visit with Stub many times to discuss his philanthropy to the Foundation.
"In December 2004," Paris says, "I joined John Irving, Sigma '58, for lunch with Stub, and the first thing he said was 'I'm going downhill fast.' Stub cared deeply about KDR and the Sigma Chapter, in particular. He maintained that he always wanted to have a project underway. His estate gift to the KDR Foundation will ensure his legacy will continue. He was truly a man for all seasons."
Plans for a park in Washington County began in the late 1990s.[3] By 2001 a master plan had been completed and the acquisition of land for the park began.[4] Construction began in 2003 when roads were installed to the park area from Highway 47.[4] By 2005 construction of the facilities and campgrounds had begun on the $18 million facility.[3]The park was scheduled to open for the Memorial Day weekend in May 2007, but the opening was delayed[2] until July 8, 2007.[5]

The working name for the park was Washington County State Park, but was later changed to Hare's Canyon State Park. In 2005, it was changed to the current name which honors the memory of Stub Stewart who had died in January of that year. He had served an extended time on the Oregon Parks and Recreation Commission, the co-owner of lumber company and a noted philanthropist.[6] The park opened mountain bike-only trails in June 2012, the first in the state.[7]
Statement of Governor of Oregon in Memory of Loren "Stub" Stewart:

"I know I am joined by countless Oregonians in mourning the loss of one of Oregon's finest leaders, Loren 'Stub' Stewart. I have known Stub and his family for over 30 years, and I am convinced that Oregon is a better place because Stub shared his life with us.

Stub was the personification of the Oregon spirit. He embodied all of the values Oregonians hold dear - independence, self-reliance, hard work and the unshakable belief that every individual has the power and the responsibility to make the world a better place.

Stub made great contributions to Oregon as both a private and public citizen. As a private businessman, his visionary approach and strong work ethic helped him build Bohemia Lumber into a successful company that provided decades of strength to Oregon's forest industry and state economy.

But financial success was not enough for this great Oregonian; he was equally dedicated to giving back to his community through public service. As a state legislator, a member of the state board of higher education, a tireless advocate for state parks and a generous philanthropist, Stub demonstrated that - as Winston Churchill observed - 'we make a living by what we get, but we make a life by what we give.'

Oregon has lost a true native son. Though I am saddened at this loss of a personal friend, I will always take inspiration from his life of altruism and public service."